On May 31st, NEXGO and GUOXIN MICRO started a corporation and signed the strategic cooperation agreement. Two enterprises will build up a partnership in mobile communication, FinTech, digital currency, IoT, smart life, etc., for business transformation and upgrade, boost the intelligence industry. Wang Yang (CEO of NEXGO), Yao Jun (VP of NEXGO), Zhu Han (Senior Vice Director of Marketing of GUOXIN MICRO), Han Mingli (Senior Vice Director of Sales of GUOXIN MICRO), and other executives attended the signing ceremony.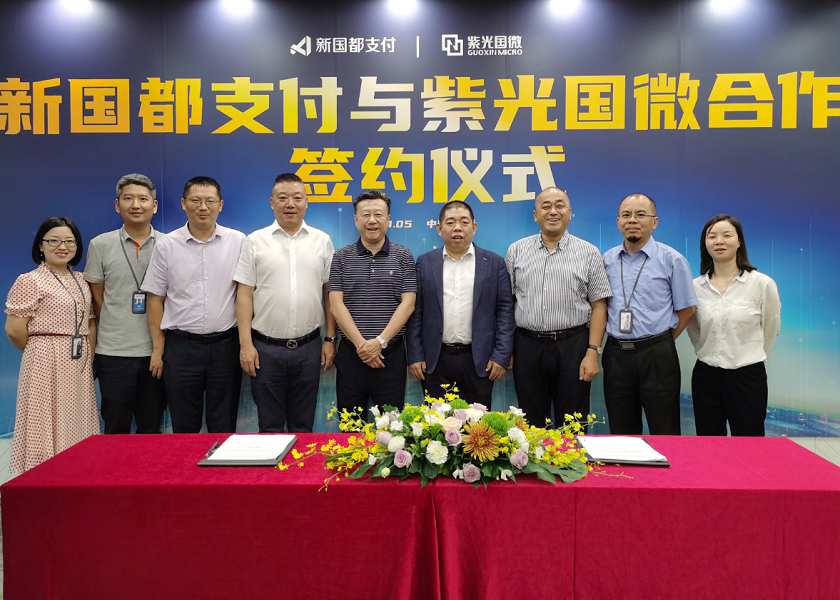 NEXGO is a worldwide influential technology company providing payment terminals and comprehensive associated technical services for electronic payment. It is also a FinTech hardware and software enterprise that has independent research and development ability. NEXGO products and techniques has been up to the world advanced level.
GUOXIN MICRO (stock code: 002049) is an integrated circuit chip product and solution provider. As a subsidiary of TSINGHUA UNIGROUP, GUOXIN MICRO is a listed company and a core of "Chip-to-Cloud" strategy, possesses advanced technical strength and abundant market power in integrated circuit chips. It has over billions of chip shipments globally. The chip products and solutions from GUOXIN MICRO covered a wide range of fields including digital security, intelligent computation, power management, and so on. GUOXIN MICRO's technology is widely applied to financial, telecommunication, mobile, IoT, and the like.
Through this corporation, NEXGO and GUOXIN MICRO will optimize each other based on digital currency, smart cities, and product co-construction. Both enterprises will make full use of the sophisticated technology in intelligent and secure chips from GUOXIN MICRO and strong resource from NEXGO, to boost the technology in digital currencies, new products and modes incubation, and development of industrialization. In the meantime, NEXGO and GUOXIN MICRO will use high technology like IoT and cloud computing to estimate, analyze and integrate the key information of city operation system so that a better smart city solution can be offered and smart industry can be facilitated.
In the signing ceremony, NEXGO and GUOXIN MICRO had a profound communication. Wang Yang, the CEO of NEXGO said that the era of information is coming. Traditional industries are now releasing their potential to cater to the development of Informatization. This corporation between NEXGO and GUOXIN MICRO is a powerful combination. Both of us will make full use of our advantages and provide more comprehensive service and support to clients. NEXGO and GUOXIN MICRO are ready to start a new episode of win-win cooperation.
Zhu Han, Senior Vice Director of Marketing from GUOXIN MICRO said that GUOXIN MICRO had experience in chip R&D and design for over 20 years. GUOXIN MICRO embraces openness and cooperation among various fields, such as IoT, smart finance, smart cities. GUOXIN MICRO wishes to promote the construction of digital innovation products and smart city with NEXGO, share technology, experience, R&D strength, and innovation strength to create a better life together.